We're helping our households connect!
The Affordable Connectivity Program is available in all Plains areas to those who qualify for the program.
The ACP is an FCC program that helps connect families and households struggling to afford internet service. The program through Plains provided up to $30/month discount fo broadband service.
This program is limited to one monthly service discount.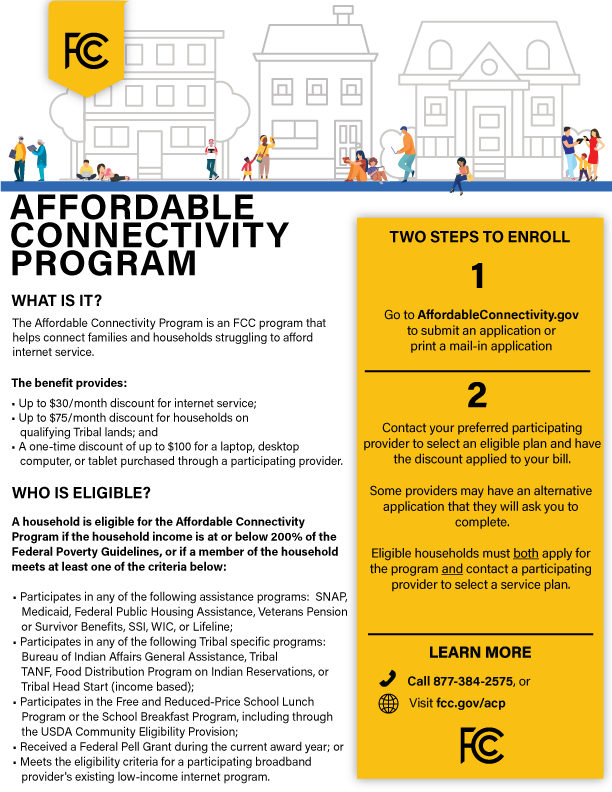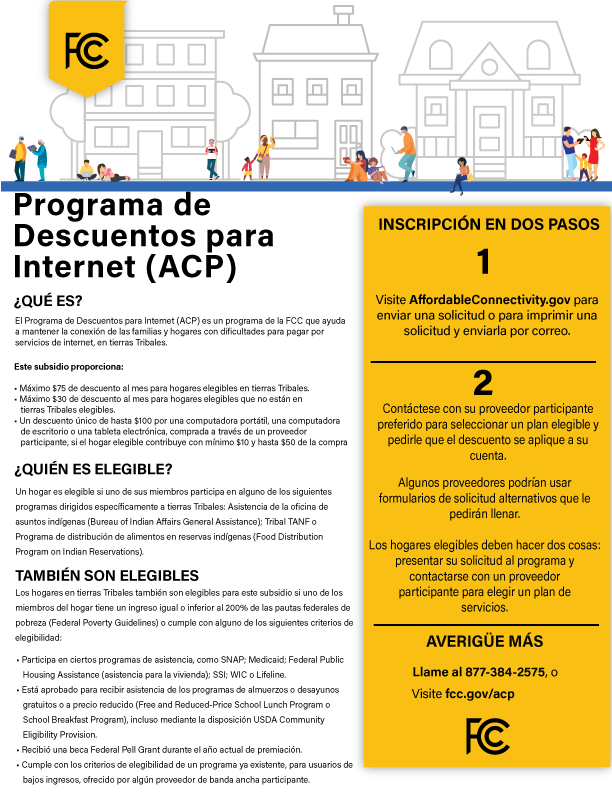 Need Help with the ACP?
If you need to talk to someone about your eligibility or application status, please call the ACP helpline at (877) 384-2575.
If you are having issues with your provider involving the Affordable Connectivity Program, you may want to file an informal consumer complaint with the FCC.  If your issue is a billing and service issue, the FCC will serve your complaint on your provider. Your provider has 30 days to send you a response to your complaint. We encourage you to contact your provider to attempt to resolve your issue prior to filing a complaint.
To proceed with filing a complaint with the FCC, please go to this form and select "availability" as the Issue and fill in the form.
Para presentar una queja en español, llamar al: 888-CALL-FCC (888-225-5322)
Frequently Asked Questions

What is the Affordable Connectivity Program?
The Affordable Connectivity Program is a new, long-term $14 billion program that has replaced the Emergency Broadband Benefit (EBB) plan.
The program allows for:
Up to $30 per month toward internet service for eligible households

Up to $75 per month for households on qualifying Tribal lands
The Affordable Connectivity Program is limited to one monthly service discount and one device discount per household.
Who is eligible for the ACP?
A household is eligible if a member of the household meets at least one of the criteria below:
Has an income that is at or below 200% of the federal poverty guidelines or
Participates in certain assistance programs, such as SNAP, Medicaid, Federal Public Housing Assistance, SSI, WIC, or Lifeline;
Participates in Tribal specific programs, such as Bureau of Indian Affairs General Assistance, Tribal TANF, or Food Distribution Program on Indian Reservations;
Is approved to receive benefits under the free and reduced-price school lunch program or the school breakfast program, including through the USDA Community Eligibility Provision in the 2019-2020, 2020-2021, or 2021-2022 school year;
Received a Federal Pell Grant during the current award year; or
Meets the eligibility criteria for a participating provider's existing low-income program.